Mozilla Thunderbird for Mac
Mozilla Thunderbird is a free email application for Mac OS X that's easy to set up and customize – and it's loaded with great features!
Under the Help Menu, you can find the Migration Assistant to help you set up Mozilla Thunderbird the way you want it. If you liked the old toolbar from Thunderbird 2, you can quickly make that change with the Migration Assistant. You can also install add-ons from the Migration Assistant like Advanced Folder Columns and Compact Header for your message display window.
Prior to this feature you had to know your IMAP, SMTP, and SSL/TLS settings. Now all you need to provide is your name, email address, and password and the email account set up wizardry will check our database and find the email settings for you.
One-click Address Book is a quick and easy way to add people to your address book. Add people by simply clicking on the star icon in the message you receive. Two clicks and you can add more details like a photo, birthday, and other contact information.
The attachment reminder looks for the word attachment(and other words like file types) in the body of your message and reminds you to add an attachment before hitting send.
The Activity Manager records all the interactions between Mozilla Thunderbird and your email provider in one place. There's no more guess work. You only have to look in one place to see everything that's happening with your email.
Mozilla Thunderbird offers support for user privacy and remote image protection. To ensure a user's privacy, Thunderbird automatically blocks remote images in email messages.
Mozilla Thunderbird protects you from email scams which try to trick users into handing over personal and confidential information by indicating when a message is a potential phishing attempt. As a second line of defense, Thunderbird warns you when you click on a link which appears to be taking you to a different Web site than the one indicated by the URL in the message.
Download Mozilla Thunderbird for Mac NOW at TopMacFreeware.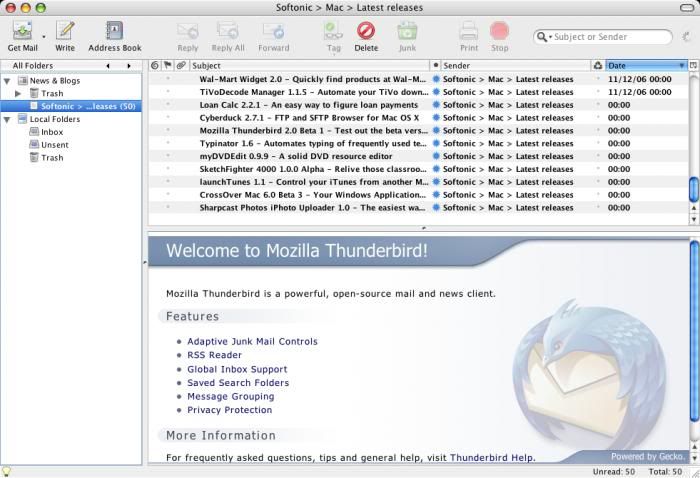 Incoming search terms: